This past weekend the kids and I had an afternoon adventure to the apple barn and pumpkin patch. We're lucky to live in the Fraser Valley where there are so many orchards and patches to choose from, but our favourite is Willow View Farms in Abbotsford. I discovered it in the fall of 2011 and we had my daughter's 2nd birthday there. It was the last birthday my baby girl had with her daddy, so maybe that's why it holds a special place in my heart. Whatever the reason, we go back year after year to continue our fall tradition.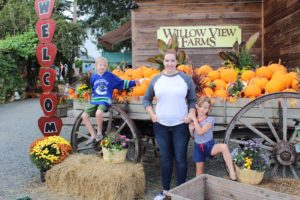 Here's what I love about Willow View. It's free, and it's fun. There is a petting zoo for the kids, with bunnies and goats and chickens and all kinds of precious animal things, and you don't have to pay a dime to hang out with them. There is a play area for when the kids need to blow off some steam, and there's no entrance fee. We can wander through the gorgeous orchards with their towering trees heavy with luscious and ripe fruit, we can tramp through the pumpkin patch looking for the perfect Jack's head, we can just hang out and take in the atmosphere, and it doesn't cost us anything. I love adventures like that.
We picked two huge bags of Gala apples, blushing red and dropping into our hands willingly. There's something so serene about walking through a quiet orchard, tiny hands picking crisp red fruit right off the trees. I wonder if kids in the big city, crammed in concrete apartments block after block, have ever seen an orchard. Have ever questioned where the apple in their brown paper lunch bag comes from. It comes from the grocery store, sure, but what about before that? To watch my kids pluck fruit from the tree and in the next moment put it to their lips for that first so-satisfying crunch, the juice dribbling down chins and onto playclothes, was beautiful.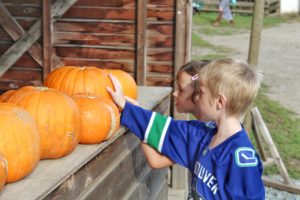 The pumpkins are not to be left out, even this early in the season they're big and begging to be scooped up, so we left the patch with six. Yes, six. And I don't even like pumpkin all that much! But there are so many choices that you want to find the very best of each. We got a sugar pumpkin for baking, a regular pumpkin for normalcy and a white pumpkin for quirk, a Cinderella pumpkin and two minis for decoration. What a travelling circus we were!
At the end of the day, we were tired and happy and grinning. Combine the adventure with bags of kettle corn and root beer candy sticks from the farm store and we were blissed out. Our kitchen certainly looks like fall has arrived, and we've rung in another year at the farm. In fact, we went so early this year that we might even hit it up again before the season ends! We'll definitely be needing more apples soon…
– Liz