What were you doing seven years ago?  I was high as a kite on morphine, waiting for my first child to arrive, ready to enter that grand world of parenthood.
It was Good Friday, I'd had one hour of sleep the night before, and my husband had left the hospital to go home and sleep off some sickness. It wasn't my finest day.  But somewhere amidst the pain and frustration and concerns, a baby came into the world, forever changing mine.
He was blue. Limp. Not breathing. I was unconscious. He had his stomach pumped and oxygen forced on him. And I was unconscious.
Finally, an hour after he was born, I got to meet my little boy.  We were in the hospital for several days, having meetings with all kinds of doctors, and a new title was slapped on my uterus: "high risk".
But that's what parenthood is, after all. The stakes are high, repeated failure is the only guarantee, and despite what any author tries to convince you – there's no manual.  Only manual labour.  You have no way of knowing how things will turn out, so you plunge forward into the abyss of trial and error (and error, and error, and more error) hoping one day to "get it right".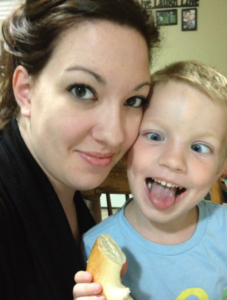 My boy, now seven years old, made me a mother.  Despite the difficult road to becoming that, it is the greatest gift I've ever received.  We've been through all kinds of stuff together. A few moves, the birth of his sister, the loss of his second sister, his dad's funeral, new churches, summer vacations, school changes, counseling appointments, first pets, the list is endless.
One day I will cry at his high school graduation. I will send him to university. I will help him move away from me.  I will dance with him at his wedding.  I will babysit his children. There are so many amazing things in his future I am excited for. But for now, I'm so lucky to have the present with him. I'm so very lucky to snuggle him every morning. I'm so lucky to watch him read his first book, write his first story. I'm so proud to have this little guy in my life. Logical, decisive, sensitive, thoughtful, introspective, hilarious, handsome, athletic, hard-working, intelligent, well-spoken. He will be a great many things in his life, but for now, what more could I want in a seven year old?  Every moment of this has been worth the risk.  
– Liz