I love travel. Last year, my kids and I went to Disneyland in January, Europe in May/June, Vancouver Island in November, and two long weekend trips to a hot springs resort in between all that. This year, we've done Disneyland in February and are doing a cruise in April. I'll also be doing California in May and New York in July. In this family, we are seriously big on adventure. Some people seem to have this idea that you can't travel with kids. That you either have to stick them with the grandparents in order to have a getaway, or wait til they're in college. I want to tell you this is not the case, sister. You have choices.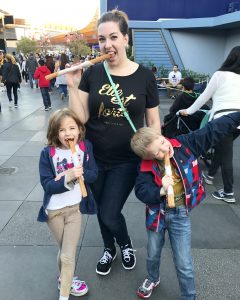 When people ask us how we can afford to travel so often, I tell them it's about choices and priorities. We don't own a house, we don't have pets, my kids go to public school, I buy older cars, I wear Gap instead of Guess. We make choices every day about how we're going to spend our money, and I am always taking into consideration the travel plans I want to make.
I took my kids to Europe last year. Three countries, three weeks. By myself. I even rented a car and drove on the other side of the road. Did people worry about our safety? Yes. Did people think I was crazy? Of course. But it was awesome and went better than anyone expected! I'd do it again in a heartbeat, and I have some tips for you so you can make your travelling-with-kids dreams come true as well.
This isn't an adults-only getaway, so plan your destination with your kids in mind. Can your kids cope with extreme temperatures? Definitely think about this if you're considering somewhere like Iceland or Mexico. If they're prone to motion sickness, a cross-country road trip or a cruise might be disasters waiting to happen (or an adventure, depending on how you see it).

If you're going somewhere with a significant culture shift, think about how that will impact your kids. What are common cultural staples that picky eaters would eat? If you suddenly needed to buy diapers, what's the closest store that would carry them?

Paris, May 2017

Plan your daily itinerary accordingly. If you're travelling with really little kids, factor in time back at your hotel/AirBnB for naps, and skip the late night attractions.

Imagine the trip through your children's eyes. And do this every time you pick an attraction to see. You may not find it interesting to see the World's Biggest Rock, but your child might find that way more fascinating and memorable than the third renaissance museum in a row. I firmly believe in culturing my kids, but I also pay attention to how much "grown-up stuff" I think they can handle.

Do as much planning as you can before you go. If you're stressed, your child will reflect that energy, so do as much beforehand to make the travel as seamless and carefree as possible.
With some careful planning and a little imagination, travelling with kids can be doable and incredible. I'd love to know your dream family vacation, or maybe one that you've already done!
– Liz