I'm unveiling part 3 of our My Little Picasso series, the most exciting part! Savannah and Vancouver artist Joyce Ozier have collaborated to create a new and innovative painting, showcasing the talents of Savannah and infused with the spirit of Joyce's artistry. Their first meeting was at a coffee shop, and then they got to work side by side in Joyce's downtown Vancouver studio. Now, what we've been waiting for!
Part 3: an art installation
I got a call from Joyce that the painting was finished. She emailed me a picture and I could hardly contain my excitement. It was so hard to keep from Savannah, but I knew I wanted to be a surprise for her.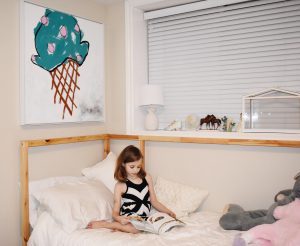 We headed out to Joyce's studio to pick up the painting, and Savannah didn't really know what to expect. Upon arrival, Joyce showed us a huge package all wrapped up in fancy paper. I encouraged Sav to tear the paper off, and finally she got a look.
Her own doodle of an ice cream cone replicated stroke for stroke on this canvas almost as tall as her. Her own signature in the bottom right-hand corner. Steaks of additional colour, flowing from the edges. A creation that lit up her eyes and brought the biggest grin to her face! She was so thankful and wowed, and hugs were in order for everyone. Joyce helped us wrap up the painting in bubble wrap and we brought it home to find a place for it.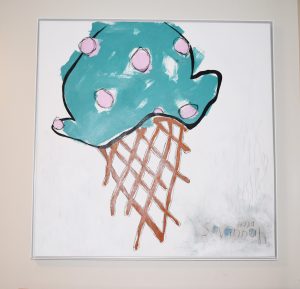 Savannah had been feeling like she wanted the painting to hang in her bedroom. I know often we're inclined to put our big art pieces in living rooms or hallways, where everyone will see them and they'll become a conversation piece. Somehow we felt a little different about this one, and Sav was really looking forward to displaying it above her bed. I see this as very symbolic actually.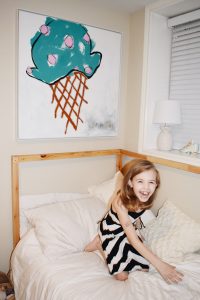 I've been to the houses of children who play sports. These children, maybe soccer players or basketball-pros-to-be, proudly line the shelves of their bedrooms with trophies and medals, symbols of their passion and talents and effort. Savannah doesn't play sports at this point, but something she is dearly dedicated to and passionate about is her art. It's not unusual to find every piece of paper in any given notebook covered in her sketches and ideas. And just like these athletic children, she now has her own trophy to display on her wall. Just like the parents who invest in equipment and league fees and uniforms, there are parents looking for opportunities to invest in their children through art and a different kind of expression. Working with Joyce was the perfect opportunity for our family.
Savannah will have this painting for the rest of her life. It won't go into the yard sale bin or trash can a few years down the road. Maybe one day it will decorate the wall of her own daughter's bedroom.
Stay tuned for the final instalment of our story, where I interview Savannah about her experience!
– Liz