Back in June, Joyce Ozier reached out to me to discuss a painting series she's working on called the Little Picasso Series. Joyce is a professional artist living and working in Vancouver, and she is experimenting with a new idea of artistic collaborations with children. I'm not ignorant to the world of fine arts, but I was intrigued by this wild vision of kids working alongside a professional artist to create something brand new and unlike anything else you might see in an artist's studio. I thought immediately of my daughter, Savannah, who regularly uses up every inch of scrap paper in our house with her doodles and drawings, bringing her imagination to the page hour after hour. I told Joyce we would be ecstatic to work with her, and I can't wait to share the whole process here.
Part 1: a cafe meetup
Savannah and I met Joyce at a little coffee shop in New West, about halfway between our home in Surrey and her studio in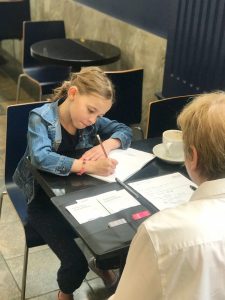 Vancouver. Joyce feels strongly that it's important to start the project with some relationship building, and this is especially a factor when working with kids. If they don't feel comfortable in their surroundings, children are less likely to express their creativity freely. Savannah was a bit nervous going into the meeting, but she generally warms up to strangers pretty quickly. She wanted to bring some paper and pencils so she could show Joyce some of her drawings, and she was especially interested in the idea of meeting a real artist in person.
Joyce is a lovely and warm woman, with a soft voice and a welcoming demeanor. She gave us both hugs right off the bat and won Savannah's affection (not difficult!) by buying her a hot chocolate and slice of banana bread. Joyce and I chatted about what the whole process would look like from start to finish, and each step involved. It was clear to me that this wasn't going to be like some after-school art class at the rec centre where kids come out stained in finger paint and holding dollar store canvases of scribbles.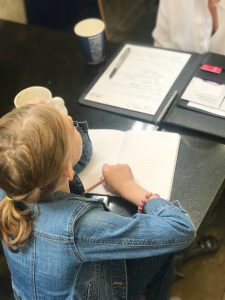 We talked about my home, and what my style and decor preferences are. I hadn't even thought about this aspect of it, but Joyce wants to work to create something that will complement its surroundings when installed, not clash or feel out of place. I so appreciated this level of thoughtfulness, and we talked about Savannah's bedroom, where the painting will eventually be hung when finished. Now Joyce knows exactly what kind of visual framework she's creating within, and I feel excited to add something so personal and intimate to Savannah's decor.
Before wrapping up, we made plans for a studio visit a few weeks later. Savannah wanted to go right away but we were working around my crazy schedule and Joyce was thankfully very flexible. The three of us finished up with more hugs all around and a promise to see each other again soon, this time in a real art studio! Stay tuned for Part 2.
– Liz