For the final instalment in our My Little Picasso series, I sat down with Savannah to talk to her about her experience working on this incredible project. If you'd like to catch up, you can read about when we first met professional artist Joyce Ozier, what it was like to visit her studio and work together, and the excitement of getting the finished product!
A chat with Savannah
Liz: Tell me what it was like when you met Joyce?
Savannah: I thought it was really cool, and I thought she was pretty neat and kind. And I had a really fun time meeting her.
L: What were you excited to talk about with Joyce?
S: I was a little excited…kind of curious..like, how could we…like what are we gonna paint? And I kept wondering that.
L: Were you nervous?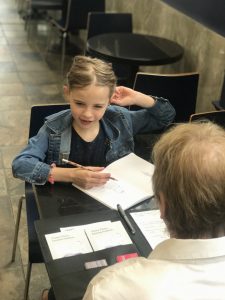 S: No, I was pretty excited.
L: Okay, so then we had a time in the art studio with Joyce. What was that like?
S: It was pretty cool. I saw a bunch of cool stuff and I was like "I bet this is the place where I'm working and I think it's going to be really fun!" because I saw a lot of paint, markers, paper, and I thought it would be very cool.
L: So you guys did some activities together that day. You coloured and you practiced writing your name in different ways and you read a book. And she had a puppet there. What was that whole experience like?
S: I thought it was amazing!
L: You drew some pictures at the studio…
S: Yeah. Well I basically drew a line with a bunch of stuff.
L: And you painted some things on a canvas. Do you remember what you painted?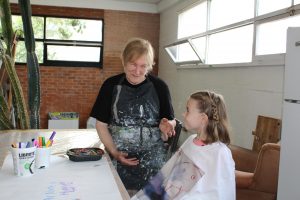 S: I painted a picture of mommy…you!
L: Yeah! What did you think Joyce was doing with your work?
S: I thought she was going to make something with a bunch of cool stuff and I didn't even know what she was using!
L: Then we got to actually pick up the painting, and you opened up the wrapping paper…
S: And it had a very big string wrapped around it, which I loved.
L: You got to open up this gigantic canvas and see what was on it for the first time. What was on it?
S: An ice cream! My favourite flavour…bubble gum. And at the bottom corner was my name!
L: Were you surprised to see that picture on there?
S: I was amazed! I thought it was the coolest thing in the world! Partly because of the big string (she laughed) but I also really love the painting. I don't even know how she could even make it that way! Like so big, and so perfectly copied!
L: Wow! Okay so then we took it home and what did we do with it?
S: We hung it up! On my wall!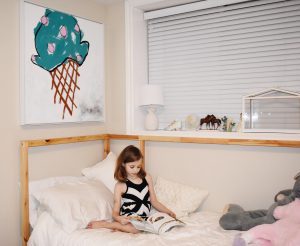 L: Why did you want to have it in your bedroom?
S: So that I could see it every day!
L: And it's right above your bed. And what does that feel like now when you look at that picture? What do you think about?
S: It feels…like ice cream is the best thing in the world!
(We laughed together.)
L: Do you feel any kind of memories or…
S: I remember, "Oh yeah! Me and Joyce painted that!" And then I remember Joyce.
L: You get to have this cool thing on your wall! What do you feel like was the best part of this experience for you?
S: Um, the best part was painting. Because painting is my favourite thing to do! And I also really like thinking and creating a bunch of stuff from my imagination.
L: So you loved painting with Joyce in her studio?
S: Yeah. I also really liked colouring on that humongously long roll of paper she had.
L: Anything else you want to add?
S: Well, I had a very fun time painting with Joyce. And it was the best experience that I've ever had of making art.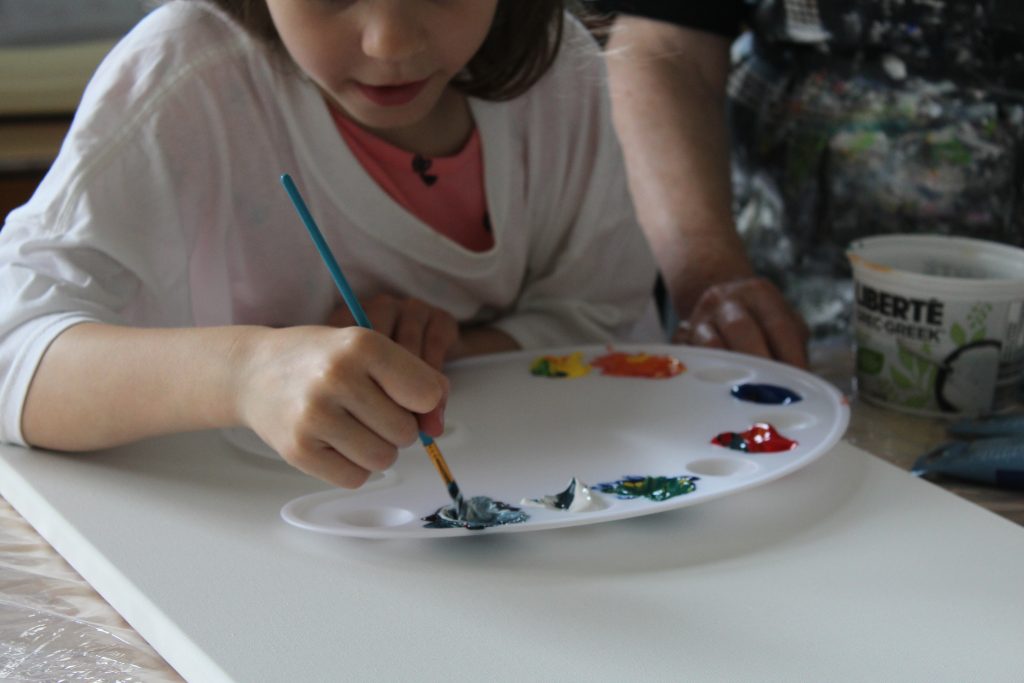 My girl is very candid, from talking about her love of ice cream and big strings, to how much she loves working with her imagination and creating things. Every single step of this project ignited new excitement in her and she felt so proud to be working on a painting with a professional artist. She's told her classmates and family all about the experience and I've loved watching how this has empowered her. I've loved walking alongside her as she partnered with Joyce Ozier, fanning the flame of her passion for art and visual expression. Maybe you've got your own budding artist like Savannah who might benefit from this beautiful opportunity! Check out Joyce's work online and find out more about her project, the Little Picasso Series.
– Liz