I'm thrilled to bring the next piece in the story of Savannah's grand artistic collaboration. As you might remember from my previous post, we have been working with professional artist Joyce Ozier to create a completely new painting with the combined artistic talents of Savannah and Joyce herself. We'd already met at a cafe and discussed how the whole process would go down, and the two artists got to meet face to face. Now came the opportunity to get their hands a little dirty!
Part 2: a studio visit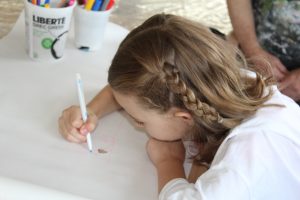 Savannah and I trekked out to downtown Vancouver to where Joyce has her studio. We were greeted with hugs and snacks, and Sav got her first look at the workspace of a professional artist! They smocked up and started their work.
First Joyce had Savannah do some doodling on a big sheet of paper. She encouraged Savannah to experiment with how she draws her lines, and they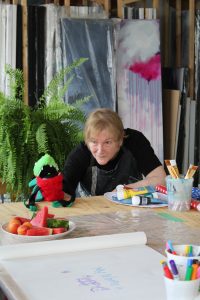 discussed Sav's favourite colours (pink, blue, purple).  Savannah went freestyle and doodled an ice cream cone – bubble gum flavoured, naturally – and then practiced writing her "signature". Joyce brought out her puppet friend to chat about colours and drawing, and then it was storytime. Together they read The Day the Crayons Quit, which Sav is a big fan of. They discussed each colour, and the concepts of mixing to create new shades.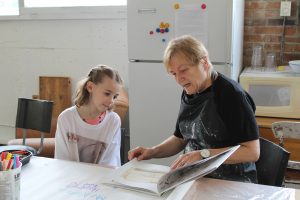 Finally, out came the paint palette and canvas! Savannah and Joyce acted on their knowledge of mixing, and created many different shades to their mutual satisfaction. Joyce handed over the palette and brushes and asked Savannah if she could paint a picture of me. Sav was thrilled and happily started working away on a masterpiece or swirls and lines and an attempted replica of my hair, complete with grown-out roots. Oh boy, kids are just the best!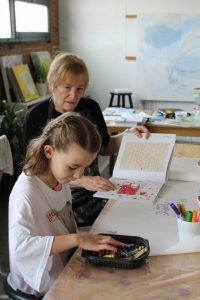 Before putting aside the canvas to dry, Savannah signed her name proudly. The time had come to wash the brushes and palette and most importantly, hands, and then more hugs and time to go. When Joyce works with long distance families, this studio visit can be skipped and she gets to know the children through Skype calls. I'm so glad we're local and Savannah could have the experience of actually visiting the studio and working with the materials there!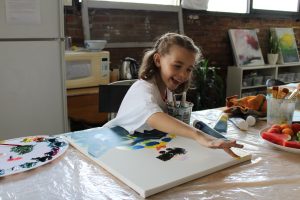 We encounter all kinds of working professionals on a regular basis. Teachers, doctors, pastors, pharmacists, grocery store clerks, photographers, construction workers, athletes. One thing Savannah has never seen much of is artists. We might see their finished works in the galleries or in magazines, but she has had little occasion to meet with them face to face. I come from a family full of visual artists and theatre artists and musicians, and I think this kind of exposure is vital.
We want our kids to see the many possibilities of what their future could look like, right? We ask them, "What do you want to be when you grow up?" and they can only answer from the knowledge they have. What we expose them to shapes our children's worldviews! Our art studio visit with Joyce was like an interactive version of Career Day, but even better than I'd imagined.
– Liz