If you've followed me on Instagram for a while, you've probably seen a story or a post of me wearing a goopy face mask or running a bubble bath. I share these personal snippets of my life not for the exhibitionism but for the public message that it's okay to just take time for yourself. This is a message I feel very strongly about and many mothers especially need to hear that the freedom for self-care is actually a really healthy and important thing.
When I became Kieran and Savannah's mom, I didn't cease to be Liz. New things were added to my identity but I didn't lose who I'd been before. However, in a life of single parenting that demands so much and a job that requires most of my energy, I really have to remind myself to grasp hard onto the things that make me me outside of who I am in relation to others. When I am not a mother, a daughter, sister, employee, who am I?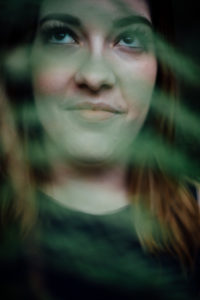 I am a book lover and a bacon eater. I laugh loudly and enjoy cello music. I hate wearing pants but I love feeling pretty. These are little bits of Liz, and a few weeks ago I took an evening to treat myself and the part of my identity that is feminine and delicate (but doesn't want to work very hard for it.)
Okay, I think we can all agree that lash extensions are really having a moment right now. They are actually everywhere and I feel like I'm so late to hop on board this train! I partnered with J&T Lashes to experiment with my very first set of extensions and good gracious, what an experience.
I arrived at their salon (they work both in Abbotsford and Surrey) in the evening and was pleased with how warm and homey it seemed, while still feeling clean and professional. I met Trisha – who is the sweetest person ever, by the way – and after making me feel at home, she had me lay down on a cozy table that felt less like I was at the doctor's and more like I was about to get a massage, if you're following me. We chatted about our lives, and normally I'm terrible at small talk but this actually helped to calm my nerves. I'm not big on having people touch me so the idea of someone fiddling with my face for a couple hours is a bit strange. I'm glad she put me at ease. After a while, I just lay silently listening to her awesome playlist of acoustic pop covers.
So I was a little bit worried that lash extensions would feel like those extensions I wore for dance competitions in high school. You know, the ones you can buy at London Drugs with the goopy glue and they're always too long and they poke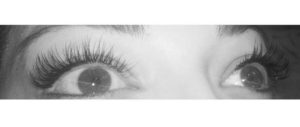 you in the eye? The. Worst. This is a whole different ball game. J&T Lashes offer a few different type of extensions–mink, flat lash, and novalash–and the principle is that the individual false lash is applied directly to the individual natural lash using an adhesive (latex-free, which is awesome). It doesn't touch your skin, no poking you in the eye, and no glue everywhere. To be honest, I hardly felt the application.
While I went on my own, I know J&T can do double appointments for ladies who want to get lashed up together. Mother's Day is coming up in just a couple weeks, so maybe you want to book an appointment for you and your mama, or maybe just a night
out with your best lady! The next time I go I'll probably bring a friend because I think it's just that much more fun.
When I finally opened my eyes at the end of the appointment and Trisha gave me a mirror, I almost cried. Except then I stopped myself because you're not supposed to get the lashes wet right away. But for real, I was blown away. They didn't look freaky and fake and the first thing I said was, "I look like a Disney Princess!" I'm pretty sure I repeated this phrase a million times over the next few days honestly. Have you seen the Disney Princesses?! Their eyelashes are constantly on fleek. Or on point. Or whatever the kids are saying these days. And I actually felt like that.
– Liz