This week is my son's 10th birthday. I cannot even believe that I wrote that sentence. I'm basically a baby myself, so how is it possible that my own baby has now turned into a ten-year-old and is going to start getting weird upper lip hair and smelling like a locker room soon? No way.
But for real, he's ten now. And that's a huge milestone! Leaving single digits behind is a bit like leaving the truest innocence of your childhood behind. He's technically a pre-teen now, and he's well on his way to thinking his friends are way cooler than his mom. News flash, my dear son: they're not. I can rap the entire theme song from Fresh Prince of Bel Air and I'm pretty sure your friends can't because they don't know what that is. So there.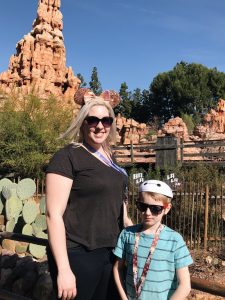 Before he stops wanting to hang out with me, I knew I needed to celebrate this milestone birthday in an epic way and also seize the chance for some real one-on-one face time with my baby. Being an only parent means my kids almost never have one-on-one time with me, and if they do it's only because the other one is in the dentist's chair or something. To combine the need for time on my own with him and our love of travel, I decided to go big…
…so we went to Disneyland for the weekend!
Yup, we're those crazy people, but hear me out.
I chose a long weekend in February, a month before his actual birthday when the park isn't as busy and we'd have more time while missing less work/school. We flew down to LA on a Thursday, spent Friday/Saturday/Sunday in the park, and flew home on Monday. Back to regular life on Tuesday! It was a bit of a whirlwind, and I will never ever choose short flights with layovers again, but we made the most of every second and it was the best time.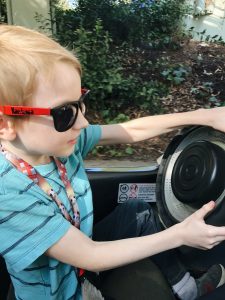 Kieran and I are both introverts, so we could be happy sitting next to each other in silence for hours while we read or something, but I didn't want to waste this opportunity. So I engaged him in lots of conversation, asking lots of deep questions about his life and how things have been going for him. Not just the surface level "How was your day?" shouted into the backseat void of our minivan. He engaged right back, with fewer one-word answers. He wouldn't ever ask for it, but he'd been craving the facetime alone with me, too.
We went to Disneyland a year ago with my Savannah and my mom as well, and I remember Kieran being more timid around the big rides. Savannah is an adrenaline junkie with a love of roller coasters, but Kieran is definitely not that. This time, though, I could see how a year had changed him a bit. He was ready to do bigger rides, and he took it all in stride like a champ. Seeing that growth was so so cool.
At home, Savannah often sleeps in my bed at night. She doesn't fall asleep there, but by midnight she's crawled in. Although our hotel room had two queen sized beds, Kieran chose to sleep in my bed for two of the nights. It was really poignant to see the ways in which he still wanted to be close to me and to be my little boy. Whether it was cuddling at night, or choosing to hold my hand as we walked through the park, my heart fluttered with love and adoration for this sweet sweet boy who is still so much mine.
This wasn't a cheap birthday party at Chuck E Cheese. It certainly cost us a bit. But I feel like we gained so much more. It's easy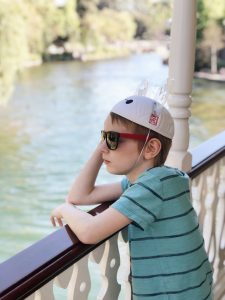 to think that as your child grows older, they need you less and less. But they just need you in different ways. I may not be feeding him mashed bananas, but I can still feed his soul for as long as he'll let me.
Do I recommend a solo trip with your kid? One hundred percent. Make an effort to escape the chaos and routine of your regular life at home. Get yourself into vacation mode. Talk to your kid with no other distractions and no one around to interrupt. Get a look at what they're like and who they are when there's no sibling rivalry at play. Get a look at what kind of parent you are when you're not being pulled in a million directions. You don't have to go to Disneyland but go somewhere. Maybe to a hotel in the next town over for a few days. Give yourself enough distance from real life to really soak in the preciousness of this time. It's fleeting and will be gone before you know it.
– Liz