The two-year anniversary of my husband's death was this week, and I've been reflecting on our relationship.  Ours was not an epic romance fit for the Lifetime channel, nor was it a mountain-moving love story like you might read in a Nicholas Sparks novel.  But it was our romance and our love story nonetheless.  We shared an intimacy that we never had with anyone else, and we really knew each other.  No, I'm not using some biblical euphemism for sex.  You can have sex with anyone, but I doubt you'd let just anybody really know you.
Some people spend their whole year looking forward to Christmas, or their birthday.  Brian knew that I spent the whole year looking forward to Cadbury Cream Eggs (especially in the form of a McDonald's McFlurry) and he liked to buy me my annual first.  He knew that while I like bananas, I despise anything banana flavoured, so he would thoughtfully screen all the yellow jelly beans.  He knew that 99 Red Balloons never failed to lift one of my bad moods, and for him it was Meat Loaf.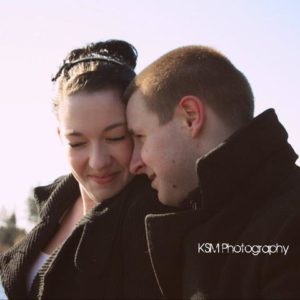 Brian always gave me the icing from his ice cream cake (my favourite part) and in return, I would split my fudge with him (his favourite part).  He could pick up a menu in any restaurant and know what to order for me, and he never judged me for having less exotic culinary tastes.  My Subway order was Sweet Chicken Teriyaki and his was the Melt with double meat.  He ate my pizza crusts without having to ask.  We would pull out a puzzle and without a word, I would start gathering the edge pieces (high fives whenever a corner piece was found) and he would start to work on whichever part looked the most the same and would therefore be the most infuriating for me (like the sky, or grass, or any large section that's all the same colour).
We finished each other's sentences regularly, and it was never just a coincidence.  It came from the places deep in us that moved as one.  We knew the punchlines to each other's jokes.  Mint Chocolate Chip ice cream was always a safe dessert to share and root beer was a soda staple.  He sometimes used my leg razor on his face and if he couldn't find his pajama pants it's because I was already wearing them.  Black Jack becomes hard to play when you know each other's poker faces.
Our love story was not grand, but it was deep.  We loved each other in the kind of way that knows every mole and freckle, the story behind each scar.  I am truly blessed to have been known so deeply, for it might never happen again.  In the five years we had as husband and wife, and the decade before as friends, Brian left a searing handprint on my soul. A little burning sign saying, "I was here, and I knew these depths".  That handprint is there because I let him put it there.  I opened myself up, spilled every secret, revealed every vulnerability, all to be known.
– Liz