I'm a single mama working 40 hours a week at my amazing job, and overtime hours at home building my personal brand. Yup, I'm exhausted 99% of the time. Somewhere around the time that it became glamorous to be so busy (yuck), I started to lose my sanity. I felt at my wits' end constantly and ready to snap, and I knew that something had to change.
You might have read my post awhile back about Oxygen Mask Parenting. My motto: take care of yourself before you take care of others, and this doesn't just apply to parents. This applies to anyone with any level of busy in their lives. If you aren't tending to your own well-being, you're not able to give as much to the people around you. Seriously.
So I have a pretty firm Treat Yourself mentality. I do things for myself that keep me sane and make me feel loved and cared for. I want to share with you one of my favourite Treat Yourself indulgences!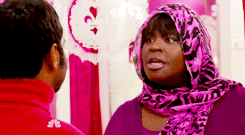 Have you heard of subscription boxes? They're really having a moment right now. You pay a monthly fee and a company automatically mails you a box of…whatever, on a regular basis. Depending on the type of box it could be weekly or monthly, or in this case, seasonally. As each new season rolls in, I get a little present at my front door, wrapped up nicely and saying to me, "Happy day, Liz! You made it through another three months, so let's celebrate!"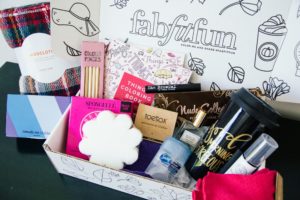 This is FabFitFun, one of the most popular subscription boxes out there, and it's pretty obvious why. I don't want to rub it in, but I pay $50/box and get over $200 in full-size products that I will actually use. I promise you, these aren't the Christmas gifts from Aunt Margery that get tucked in a shoebox under the bed for five years. It's more like, an autumny plaid blanket scarf like you've seen on that Jenner girl, an adult coloring book everyone on Pinterest in talking about, a cute travel coffee mug that looks way better in a selfie than a disposable Starbucks cup, and a full-size eyeshadow palette with 12 gorgeous neutrals. I'm not joking around here. That's only four items out of eleven!
Every time I open one of these boxes, I know I'm going to be pleasantly surprised. With the amount of stuff you get, even if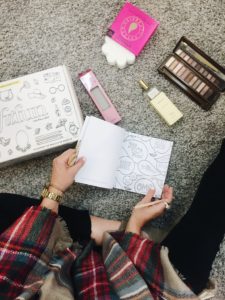 there are one or two things that don't float your boat you still got way more than your money's worth…and then you have a couple gifts for girlfriends or sisters! In total, the value of my Fall 2016 box is $239.99. Do you know how awesome it is to get $240 worth of stuff at your front door and know you only paid $50? That's a beautiful feeling, friends. Do yourself a favour and head over —> here <— to grab your FabFitFun box! And a special deal for you: use the coupon code PUMPKIN to get an extra $10 off! Treat yourself today, and thank me tomorrow!
– Liz