The kids and I love getaways. We have a pretty routinized life that revolves around work/school/daycare which just leaves the weekend for adventures, so we brainstorm ways to step outside the ordinary and make new memories. Sometimes it's just an afternoon trip to a local spot we love but occasionally we really make a go of it.
February holds the lovely Family Day long weekend. Essentially Family Day is a holiday Monday for no reason other than to give families a day off work and school to spend time together…and we get a long weekend because of it! I'm not complaining. So we had this long weekend in the middle of February and no commitments, so the kids and I booked the very last hotel room in our favourite lake town, packed up the van and hit the road.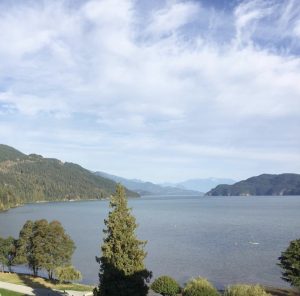 We live in a big city and things are often loud and busy and bustling, so when I want a getaway I want to go somewhere quiet where things move a little more slowly. I want a change of literal scenery. No more skyscrapers, please! Harrison Hot Springs is a little town on a lake nestled in between some mountains with natural hot springs flowing into the resort hotel's five pools, and the town's public pool. It is the height of luxury in a little town 90 minutes from Vancouver.

I'm pretty convinced that mothers are the target market for hotels. We don't have to cook and someone else cleans up after our messy kids. The kids and I relaxed in the pools and explored our favourite shops around the town. We spent time just hanging out on the beach and exploring the area. The clear, crisp air was so good for my soul and seemed to invigorate my kids and bring out the best parts of their personalities.
Accommodation:
We like to stay at the Harrison Hot Springs Resort & Spa. It's huge and has the hot springs pools for swimming! Being able to soak for hours in a pool that feels like a bathtub is one of the biggest factors in making this my go-to accommodation. I know there are some other hotels in town and a sprinkling of AirBnB options but I can't personally speak to the pros and cons of those.
Dining:

The Resort & Spa has some fabulous food options on site which is another reason I love booking there. There's a coffee shop in the lobby serving Starbucks brew and lighter fare for morning munchables or a snack. The Islands Bar is mostly geared towards adults but they have a family section and we grabbed flatbread pizza and nachos there one day for lunch. The real winner for me is the Lakeside Cafe, which has an amazing breakfast buffet (including an omelet bar!) and delicious dinners. There are also lots of wonderful food options throughout the town.
Activities:
Not going to lie, we spend a lot of time in the pools. It's really the big draw to get us out there because there's nothing like natural hot springs water. However, with the gorgeous location of the town, we'd be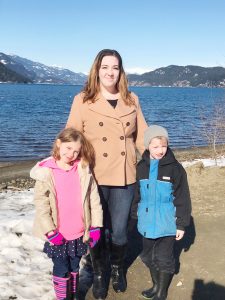 really missing out if we didn't do something exploring. There's a big playground that the kids love to burn energy on for ages, and I'm happy to bring a book and have some quiet time sitting on a bench. We like to walk on the beach, down the dock, around the town (it's so small that you can do the whole thing on foot) and poke our head in some shops. Harrison is not a town you go to if you want go-go-go non-stop action. Harrison is where you go to leave that behind and say yes to the art of slow living.

In case you can't tell, Harrison Hot Springs is our happy place. We come to recenter ourselves and to spend quality time with each other away from other commitments. We get to enjoy the most gorgeous landscape in peace and quiet and feel like we're having a proper vacation just a short ways from home. All in all, it's my favourite getaway. Now…when can we go back?
– Liz