Yesterday morning 6500 women had arrived in Whistler for Mudderella.  Some signed up months ago, and some signed up the day of, but they were all waiting for their turn to climb Blackcomb and Whistler mountain and conquer an 8 km obstacle course in the mud.  They came in spandex and tutus and t-shirts printed with ridiculous and hilarious team names.  They came with headbands and face paint and tattoos.  They came to support breast cancer research and end domestic violence.  They came to Own Their Strong.
What does any of this have to do with me?  I'm not the "outdoorsy" type.  I'd rather snuggle up with a cup of tea and a good book.  I don't really get rough and tough and dirty.  But three months ago, some fellow moms at my kids' school that I serve on the parent committee with sent out an email asking if anyone was up for an obstacle course in Whistler.  We all checked out the website, had some laughs about how out of shape we all were, and signed up.  Honestly, I did it because they were doing it.  I thought it might provide some good bonding time.  I wasn't really thinking.  But there we were – Team Sharp.
For three months, women in our team trained with great discipline and drive.  And then there were other women in our team that trained here and there but didn't really make it a priority.  Guess which group I fell into?  Needless to say, when there are books calling to me, I don't ever choose the dumbbells.
Finally, with or without the training, Friday September 25th arrived and we excitedly made our way up to Whistler.  After dinner and drinks, a good night's sleep, and a protein-heavy breakfast, we donned our silly costumes and made our way to the venue.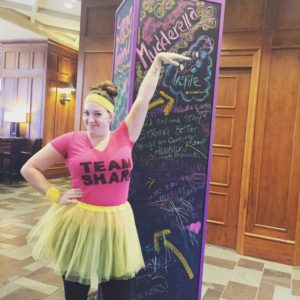 After check-in, stowing our bags, applying some face paint and temporary tattoos, and a little stretching, we were released onto the course at our team's scheduled time of 12:15, and I estimated we'd be finished by around 3.  Pretty quickly, our team drifted into two groups.  The Keeners and The Laggies.  Once again, take a wild guess which group I fell into.  I am immensely grateful for the 2-4 women that lagged alongside me.  The course started on an incline and after a while we reached our first of twelve official "obstacles" – we had to wade through a ditch filled with knee-deep muddy water.  Easy peasy, even if it was cold!  Then, with sopping wet shoes, we began a truly gruelling and brutal journey up the mountain.
I've heard about runners hitting a "wall", usually close to the end of their course, where they just don't think they can go any further.  I hit my wall yesterday, and I hit it around the 1 km mark.  I was climbing straight up a mountain, on an insane incline, with no end in sight and a whispered hope of water at the other end.  My mouth felt like it was filled with cotton balls, and a teammate squinted at me with genuine concern.  "You don't look so good, Liz.  Really."  That's when I felt the first stabbing pains up my legs of arthritis – an unwanted gift from a car accident a couple years ago – and I got scared.  This is it.  Before I even reach the second obstacle I'm going to collapse and they'll have to transport me down the mountain.  I don't want to do this, I don't want to be here, I hate this.  I lay down on the grass and put my head in my arms.  If I were the crying type, I can confidently say there would have been tears.  I have been fighting an awful battle against my body since that car accident and this course was rubbing all of my inadequacies in my face.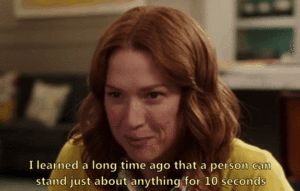 For whatever reason, I stood up and we faced the mountain again, but this time with a twist.  It turns out my teammate and I are both fans of the Unbreakable Kimmy Schmidt.  "Liz, you can do anything for ten seconds.  So we'll just take it ten at a time."  And so for a long time, we climbed for ten seconds and rested for ten seconds and climbed for ten seconds again.  And you know what the best part was?  Aside from my dear teammate, I was not the only one.  All around me there were women stopping to catch their breath and steal a few moments of rest.  I was not the only one out there feeling slaughtered by this climb so early on in our journey.
And then a woman went down.  I don't know what happened, but all of a sudden she was on the ground and women surrounded her, and a beautiful thing happened.  A wave of cries began, and then hundreds of women were calling up the mountain for a medic.  If you heard the cry, you passed it on.  It didn't matter that she wasn't your teammate, that you didn't know her name or what happened, because at that moment we all became one team.  We rallied around a fallen comrade in a way I have never ever seen women do before.  I'm used to women that tear each other down, often from places of insecurity and competition.  Women that seem to believe there is only room for one successful woman in this world and they're determined to be it.  Women I've generally avoided.  But this day was like a beacon of hope for my gender.  Throughout the whole day these women were encouraging and cheering each other on, complimenting outfits, sharing jokes.  We were warriors, and we were warriors together.
Somehow we made it up.  We got water and a bathroom break.  We continued even further up the mountain and arrived at our second obstacle: crossing a balancing beam.  Some women wobbled and wavered as they crossed the beam alone, arms stretched out for balance.  Without really thinking about it, I hopped on the beam and my teammate held my hand.  We crossed together, one on the beam and one on the ground, and then we went back to the beginning and switched places.  Because why not?  There are no rules saying you have to go it alone – on the course or in real life.  So lean on whoever you can.  
Finally we hit the highest peak and began our way down the mountain.  With all of the switchbacks through rough terrain, we still had periods of painful inclines, but never as high as we'd been before.  We hit obstacle after obstacle: climb over a wall; crawl under wires on your hands and knees through mud that comes up to your elbows; shimmy through a narrow concrete tube to a watery ditch below; balance on your hands and feet and cross a trench lengthwise; piggyback your teammate across the gravel road; slog through watery valleys and up mud mountains; army-crawl under a heavy net; climb over an even higher wall with a rope; walk across six or seven swinging tires and try not to flip yourself onto the ground.  The "obstacles" set up by the Mudderella crew were actually the best part.  They were a lot of fun and of varying degrees of difficulty, just to keep it interesting.
More uneven terrain and we finally entered the 8th kilometer.  It was late.  We knew we were just about the last girls on the course, and long ago we'd been passed by teams who'd started much later than we had.  With every single step sending stabbing pains through my hips and knees, I dragged myself (with the help of a teammate) to the end of the course and stood in front of the last obstacle.  A climb up a cargo net, maybe 25 ft, and a wicked steep slide into a muddy pool.  Half of my team opted out.  I looked at this obstacle in front of me and I looked at the starting line where I'd been five hours ago.  I came this far.  Somehow I made it here.  I've got to do this last one.  I don't mind heights, but I don't like water.  It's not my friend.  But I figured that it's probably only a few feet deep and nothing like jumping into the unknown abyss of the ocean or anything.  So I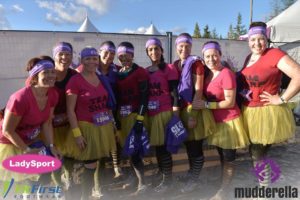 climbed and climbed and sat at the top of a steep slide with four teammates.  We counted down and flew towards the pool.  The ice cold water attacked our exhausted bodies as we all went under.  Climbing out as fast as we could, teammates hugged and high-fived each other, heading for showers, change rooms, and the promise of beer.  It was over.  We had finished.
I learned a lot yesterday.  I learned that I dislike walking downhill as much as I dislike walking uphill.  I learned that pretty much every woman will give you an "amen, sister" if you mention you'd give anything for a glass of wine.  I learned that obstacles can be man-made balance beams and tire swings, or they can be roots and boulders and narrow forest cliff edges, so tread carefully.  I learned about the incredible value of having someone who sees your pace and is willing to stick by your side anyway.  Mostly I learned that there is a very loud voice in my head telling me to quit.  She is a nay-sayer who cannot see beyond the confines of her tiny, compact comfort zone.  She is fearful and full of doubts, and yesterday I almost let her win.  But she didn't.  At dinner, my teammates toasted my perseverance and told me how proud they were that I finished.  I think I was proudest, though.  To that naggy and whiny voice I said, That's enough.  I will finish.  I don't know how, but I'm here to finish.  I have goals and I will achieve them.  You can't hold me back.
I remember after one particularly dirty obstacle, there was a poster of encouragement for the Mudderellas: "This is what strong looks like!"  Yes, it was a little cliche and I chuckled, but then I thought about it more, and I thought about Mudderella as a whole.  It's raising money for breast cancer and domestic violence.  The registrants are made up of thousands of women with thousands of stories, and to each one, "Own Your Strong" means something a little bit different.  "This is what strong looks like!" isn't about a mud pit on Whistler mountain.  It's about slogging through the muck and getting up on the other side.  Getting through whatever it is you have to get through, be it breast cancer or domestic violence or a car accident or something entirely your own.  And when you do get up on the other side, you are strong.  But you may not be pristine and clean.  You will probably be mucky.  "This is what strong looks like!" is about standing up, mucky or not, and continuing on the next leg of the journey.  Your journey could be 8 km, or 8 years, or 8 surgeries, or 8 anything.  Your journey is your own, your strength is your own.  You will finish the course.
– Liz