Last Friday, July 8th, would have been the 5th birthday of my youngest daughter. I talk about it pretty openly that I had a second-trimester miscarriage in 2011.  No, losing a baby in your second trimester is not super common. Generally by that point, you've made it to the safety zone so you tell your friends and family you're having a baby and you go for exciting ultrasounds and buy all kinds of things to feather your nest.
Honestly, though, I told everyone as soon as I found out I was pregnant at 4 weeks along. I'd had two successful pregnancies in recent years and I was young and healthy. The previous pregnancies had been unplanned surprises, but this pregnancy was one we'd actually discussed beforehand and said things like, "wouldn't it be awesome to have another baby?" And so we did. When the test showed positive, we told the world. We went back and forth over baby names. We started seriously thinking about upgrading to a larger vehicle and moving somewhere with more space. I prepared to take a year off from school. We had our game faces on and we were so ready to rock Parenthood of Three.
And then, all of a sudden, it was back to Parenthood of Two. I'd had a teeny bit of spotting so we went to get it checked out, just to be safe. They did an ultrasound. Then a blood test. Then another ultrasound. My husband and I were at the hospital for several hours, talking and laughing and dreaming of what life would be like with this new little person in it, totally oblivious to anything out of the ordinary. But after the second ultrasound, the doctor came to us with the news. For no apparent reason, our baby had just stopped living. That was it.
I was devastated. There is no word for a parent who loses a child because it goes completely against the natural order of things. My heart was ripped in two for the sweet baby that I wouldn't hold or bring home or raise. The dreams we had been dreaming for months were in a moment made obsolete.
Shortly after, as my husband and I continued to grieve deeply for our lost child, I was struck by a dream unlike any other I've ever experienced. There was a clarity and presence, as though I were actually living in this moment, where my normal dreams have always been a little fuzzy and detached. I was cradling a little girl. She stared at me and I at her. She felt secure in my arms, the weight of her body a comfort I had been lacking. As I sat holding her, words filled the space around me, embracing me and holding me. "Have faith, Elizabeth."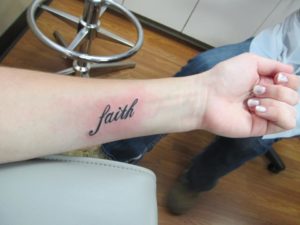 I woke up and shook my husband to consciousness.  "We have a daughter," I told him. "Her name is Faith Elizabeth."
Friday would have been her 5th birthday. And unlike many mothers who have experienced a miscarriage, I have not been silent about her. I wear a tattoo of her name on my arm, where she lay for one night in my dream. She has been included in my Instagram bio with my other kids and we talk about her all the time. The absence of her is very much a part of my everyday life. Why? Why not just keep it under wraps, grieve privately, and avoid any potentially awkward conversations? I talk about my miscarriage for a few reasons.
She deserves it and so do I. She was real. She was wanted and loved and for a while, she was here with me. I do a disservice to her very personhood by not acknowledging this. I do a disservice to my own pain and grief and loss by not acknowledging this. I am a mother to all of my children. She is a part of my identity. I embrace her as part of my family, and I talk about my family.




---

For the women who have been silent. A shockingly large number of women experience a miscarriage at some point. Some don't even know they've had one, some didn't know they were pregnant in the first place. Some women have had repeat miscarriages, waiting for that rainbow baby who makes it. Some women talk about it, and a great many don't. Maybe it's too painful for them, or maybe they don't feel like they can. That it's a sensitive subject and people won't know how to respond. I want to fight the taboo on this subject, and say for all of these mothers, YES we can talk about our babies that we have lost.




---

For the general public who often needs a little education in caring for grieving people and talking about uncomfortable stuff. I'm so thankful that I have pretty thick skin because I've heard a lot of awful things about the death of my baby. A month ago, someone said something disgustingly simplistic to me about how it's actually a good thing my baby died, and I shouldn't be sad because that's what Nature had planned. Yes, I resisted punching them in the throat. I've had people try and find diplomatic ways of saying that since my husband is dead, it's probably a good thing that I only have two kids to look after on my own. People say really awful stuff when you bring up dead babies, so I guess that's why most grieving mothers just don't. But I'm not content to let ignorant people STAY ignorant. So I confront those simplistic and barely diplomatic responses with education on WHAT NOT TO SAY TO SOMEONE WHO HAS LOST A CHILD. And I just hope that the next grieving mama they encounter, with skin maybe not as thick as mine, is treated with a bit more grace and care. Because no matter how well you think you're framing it, it is never ever a happy thing when a child you hoped for and loved and wanted dies.
The next time you meet a woman who has lost a child in pregnancy, practice empathy. If you wouldn't say "Don't be sad, it's just what Nature had planned," to the man who just lost his wife in an accident, don't say it to this mother. If you wouldn't say "Well now you only have to raise your other kids," to parents whose child has drowned, don't say it to this mother. If you wouldn't say "At least it's over now and you can move on," to a girl whose brother died of cancer, don't say it to this mother. Grief is grief, and if you can't think of something appropriate to say, refrain from adding to their pain and just stay silent. But if you can navigate the terrain of broken hearts, then talk to her about it. Ask her how she's doing. If she wants to tell you her story, listen. Love on her. Empathize with her. Recognize the incredible sorrow she carries with her and don't hold it against her. She's going through the unimaginable.
– Liz