I've been MIA from the blog since September, swamped with big things in my personal life. I've done my best to stay active on social media but it's been awhile since I've had a moment to slow down, open up the laptop, and get some words out there. 2016 was a rough year in a lot of ways: countless celebrity deaths that hit people pretty hard; developments of the brutal and devastating war in Syria; Brexit rocking the British economy and dividing the population in pretty harsh ways; a certain American election that brought out the worst in some. That's just to name a few, but it's been hard not to feel buried under the world's burdens this past year. And yet, amidst great turmoil, my personal word for this year stood out brightly for me: opportunity.
I don't know if you do this, but for most years of my adult life I can think of one all-encompassing word that sums up what the year held for me or why it was significant. These words have been both positive and negative depending on the particular year. I went into 2016 with a word in mind, "peace". I wanted to trust God in all that He provided this year and the plans He had for me. Soon, though, it became clear that this year's word would actually be "opportunity".
2016 began with a promotion at my job. I went from part-time admin work to full-time project management at a quickly growing digital marketing start-up. This was a bit of a shock to my system at first and I had a huge learning curve ahead of me, and there were definitely a few moments of anxiety and sleeplessness and wavering self-confidence. Over the year, my role at work has shifted even more significantly, and now project management is only about 10% of my workload. This has been confusing and sometimes frustrating, but ultimately, it has been an incredible opportunity for growth (both personal and professional) and I have learned so much about my own strengths and passions in the workplace.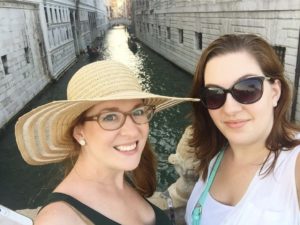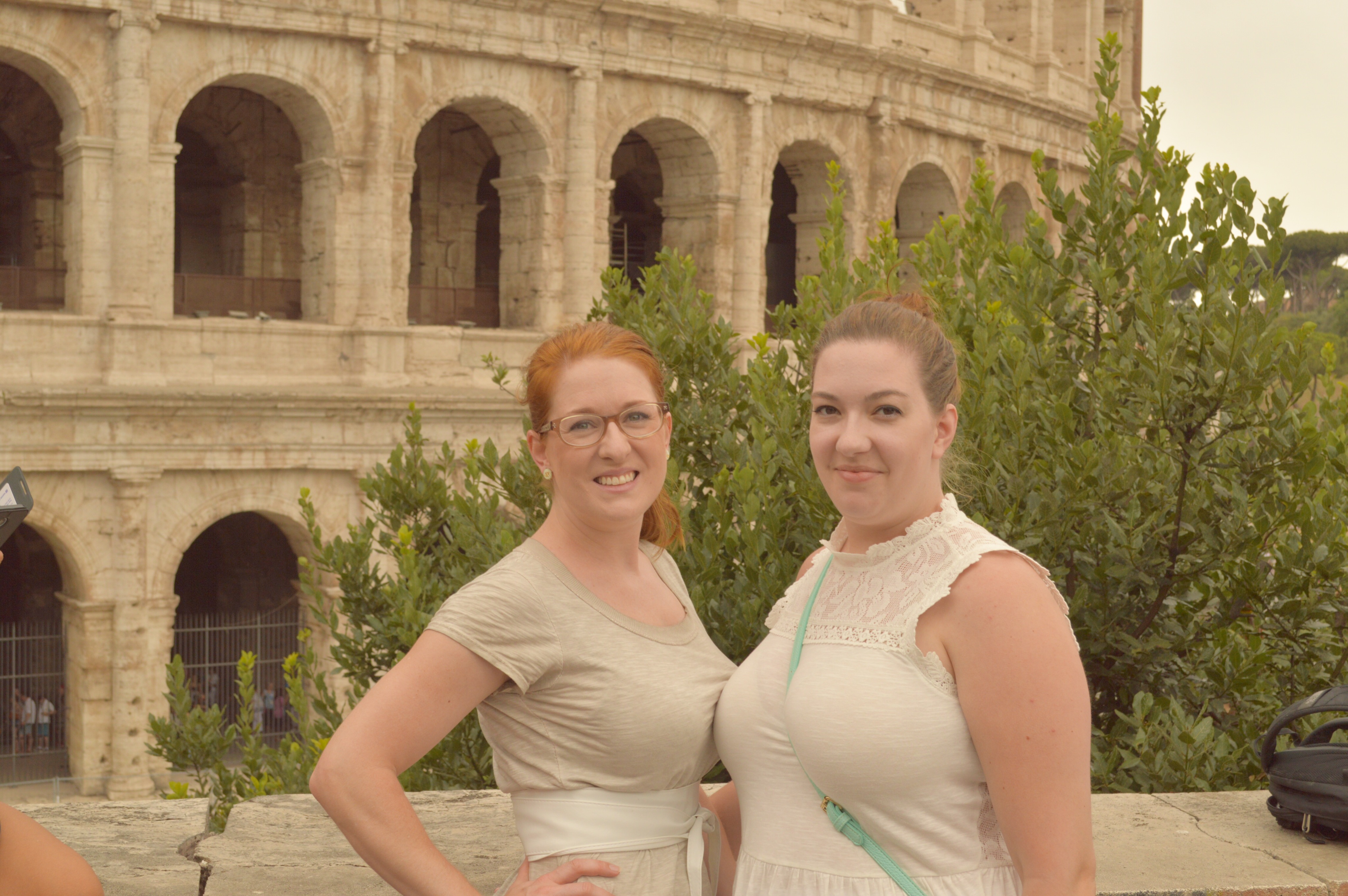 In February, one of my sisters and I decided to plan an overseas trip for the summer. Along with big babysitting help from my parents and in-laws, we dreamed into reality a 10-day voyage to Italy, stopping in Venice, Florence, and Rome. I haven't been overseas since 2007, shortly before I got married and had kids. I was blown away by the support my parents gave me in taking my kids for the majority of those days and their belief, alongside my sister's, that even though I'm a single mom and have made all kinds of different concessions to my kids and home life over the years, I can still do some things for me and it's possible to dream. My sister and I had a heavenly time in a beautiful country rich with soul-refreshing art and jaw-dropping landscapes. I learned a lot about my own travel style, and how I need to pace myself very differently now than I did in 2007. It was also a lovely time of relationship building with my dear sister.
By April, a mediation date was finally scheduled for a brutal car accident of mine from early 2013. This accident changed my life. Because of one driver's poor decision making in an average intersection in suburbia, I was left with crippling osteoarthritis in my knees and hips, a rib prone to frequent dislocation from my spine, bursitis and regular muscle spasms in my left shoulder extending down to my elbow, vertebrae in my back and neck out of alignment, and those are just the long term injuries that have plateaued after three years of various therapies. I will be dealing with this pain for the rest of my life. To finally go into mediation with ICBC and come to a settlement was an immense relief. The settlement provided me with the ability to continue pain management treatments and…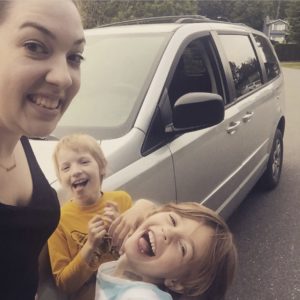 …buy a new van! Okay, not brand new, but a 2010 Dodge Caravan. I have wanted a minivan since I first learned to drive on one. I love how big they are, but with a lower centre of gravity than many trucks and SUVS, so I feel very safe on the road. This became the sixth vehicle I've personally owned, but the first I've been able to buy out of desire and not necessity. Typically, I buy cheaper, older vehicles and drive them into the ground (or they get smashed up by car accidents). This time I was able to buy an excellent condition minivan that's only six years old…just because I wanted to! I wanted a seat that fit me better, space for my kids and other people, storage room for the big trips to IKEA and Costco, and something that felt like it wouldn't crumple under impact, leaving me and my kids vulnerable. My old Civic was sold and am relishing in this new chapter of vehicles.
In June I launched this site! I'd been blogging on wordpress.com for several years but made the big switch to self-hosting and taking more control for my vision of where I want this thing to go. It's been a slow six months for me, in how much time I've been able to devote to blogging, but I love having a space in the online realm that feels more like me and can be anything I want it to be.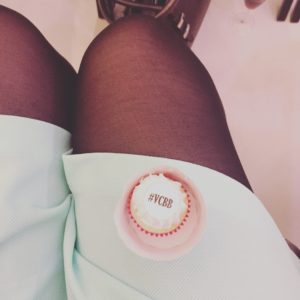 The summer was a bit of a blur of two huge work events and a retreat, Italy, and making memories with the kids. I also started going to some networking events for women! I met some fabulous ladies and stretched my creativepreneur legs a bit. #communityovercompetition always.
Fall arrived and in September the kids and I went to Harrison Hot Springs for a few days for my sister-in-law's wedding. She asked me if I would play the ukulele for her as she walked down the aisle, and I joyfully agreed…despite the fact that I generally don't like playing instruments in front of people! I come from a very musical family (dad has a PhD, mom and sister were piano teachers, other sister has recordings and was in a duo that played shows in Van, brother is on Apple Music, the stakes are high here) and of all six of us I am the least naturally talented (I also have practiced the least, so there's that too). I spent over a decade in piano lessons, playing my first recital at age 3, am self-taught in guitar and ukulele, played trumpet for a year in band, and have taken years of voice lessons. Despite all this, I still have a fear of performing. But I sucked it up, practiced for weeks, and played some good old Can't Help Falling In Love With You as my husband's sister walked down the aisle. I'm glad for the opportunity to step outside of my comfort zone and use my music as a gift to bless someone else.
October was a big deal. In summer 2015 my chiropractor told me the discouraging news that my post-car accident injuries were plateauing. I felt devastated, still being in so much pain. But he also told me that surgery was an important option to consider. I could have a procedure done that would relieve an enormous amount of pressure and tension from my back, neck, and shoulders. It could mean great results, but it would mean major surgery. I thought and prayed about it for awhile, saw two doctors that confirmed the chiropractor's suggestion, and went to see the surgeon for myself. After an exam, he told me I was an excellent candidate and I felt relief. I was ready to go ahead with it, but the wait list was long and I knew it would be a while. In October, after a year of waiting, I got the call that a date had been scheduled for me. I was about to go under the knife for an hour and a half. That's no small thing. But I went for it with hope in my heart and trust in the surgeon, nurses, and God. I woke up with 35 inches of scars across my body and the immediate sensation of relief, like a literal weight had been lifted. I knew immediately that this surgery was life-changing. After convalescing at home for 2.5 weeks, I returned to work with less pain and greater self-confidence in my body's capabilities. I've seen my surgeon a few times since then and have actually hugged him for the change he has made in my life.
Then came November, filled with a combination of dread and relief. I was about to go into another mediation with ICBC, this time for the drunk driving accident that killed my husband in 2012. Sitting across from cold and ruthless lawyers as they low-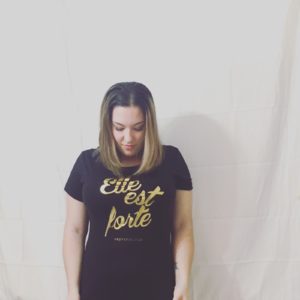 balled how much my husband's life was worth, I sobbed through my statement to them, pleading with them to understand all that he was to my children and me, that he was more than another stack of paperwork. I sat in the mediation offices for eight hours volleying offers and counter-offers. It was the most exhausting marathon of my life, but ultimately I had them against the ropes and showed them that I would not back down. I got them for much more than they had prepared to give (though still less than what my lawyer and I knew was right, curse the system) and I left that day knowing a very significant chapter had closed on this part of my grief journey. This settlement will mean a fair bit in the way of opportunities for me and my kids. I don't take any of it for granted.
And so the year comes to a close. I feel that this was a real cornerstone year of my adulthood, bringing about a lot of change and growth. I have exciting things planned for 2017 (like Disneyland with my monkeys in two weeks!!) and if 2016 was about opportunity, I think 2017 will be about action. There is so much more I can do with this blog, there are courses I want to take about things I'm passionate about, my role at work will continue to shift and change in exciting ways, I'm planning to buy a house, and the list goes on. This new year is in my hands to shape and mold as I please, the only ingredient being how much time and energy I'm willing to give. I have hopes that I can settle into a pain-management regime and ease in structured fitness for my broken body, and faith in God that a treatment plan can be solidified for the disease that has plagued my body for over four years. I am so very excited to make more memories with my monkeys and embrace fun and I'm planning to write to you next December with triumph in all that has been accomplished! For now, let me wish you a very Happy New Year and may you and yours be richly blessed.
– Liz